OUR FOUR PRINCIPLES
Living according to the principles of charity, unity, fraternity and patriotism, Knights work in local parishes and internationally to make the world a better place each day.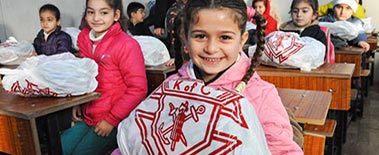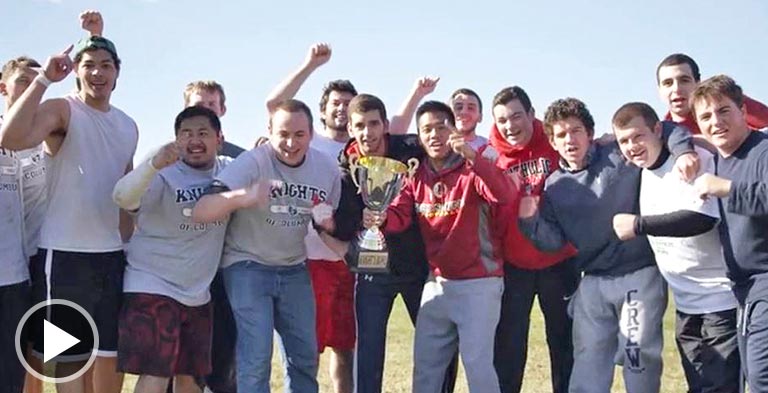 TO BE A KNIGHT
There is a call deep within each man to go deeper and reach higher to become the man God made him to be. In a world full of challenges, the Knights of Columbus equips men to answer the call to lead with faith, protect their families, serve others and defend their values.
BENEFITS: RESOURCES FOR CATHOLIC MEN
As a Knight of Columbus you receive a wealth of resources to help you grow in your faith and become a better Catholic man, as well as access to Catholic news and first-rate financial protection. Stay informed on major developments of interest to Catholics with your monthly subscription to Columbia, the Order's flagship publication. Plan your family's financial future with valuable information and tools.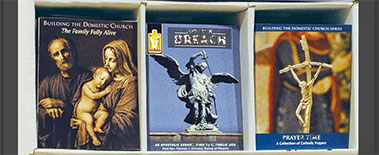 TESTIMONIAL: MAN OF GOD
"If you want to be heroic, if you want to stand for something greater than yourself, you join the Knights of Columbus."
— Chris Cannataro, Washington, D.C.
~~~~~~~~~~~~~~~~~~~~~~~~~~~~~~~
Benefits of Membership
Some of the many benefits and opportunities that Knights of Columbus members and their families enjoy:
COLUMBIA MAGAZINE – Free subscription to the Order's monthly magazine examining issues of concern to Knights, Catholics and families.
KNIGHTS of COLUMBUS ROSARY – Blessed by the supreme chaplain, presented during the First Degree exemplification to each new member.
DAILY MASS OF REMEMBRANCE AT ST. MARY'S CHURCH – Mass for deceased members and their wives, and deceased members of the Squires program, at birthplace of the Order.
INSURANCE – Portfolio of top-quality life insurance, long-term care, and annuity products exclusively for members and their families.
FAMILY FRATERNAL BENEFIT – For eligible families: a) Pays $1,500 for the child who dies before the age of 61 days; b) Pays $750 for the child who is stillborn at least 20 weeks after conception; c) Offers guaranteed-issue insurance up to $5,000 to any child under age 18.
ORPHAN BENEFIT – $80 monthly allotment for orphans of eligible families; up to $7,000 in college scholarships available.
MEMBER/SPOUSE FRATERNAL BENEFIT – Accidental death coverage for member and spouse at no cost.
WIDOW BENEFITS – a) Continues to be covered under the Member/Spouse Fraternal Benefit; b) May purchase life insurance, long-term care insurance, or annuities up to one year after insured member's death; c) Receives a free lifetime subscription to Columbia; d) Eligible with her children for scholarships, student loans, etc.
SCHOLARSHIPS – Scholarship programs for higher education available to members, their spouses and children.
LEADERSHIP DEVELOPMENT – Opportunity to build personal leadership skills, public speaking ability, organization skills, etc.
FOURTH DEGREE – Eligibility to join the "Patriotic Degree."
HONORARY LIFE MEMBERSHIP at Age 70 with 25 years of membership.
MEMBERSHIP CARD – Entitles participation in all Catholic, fraternal and social activities in nearly 13,000 councils throughout the world.
ACTIVITIES – FAMILY/YOUTH/RELIGIOUS/SOCIAL/ATHLETIC – Participation in a variety of programs and activities conducted by local councils.
~~~~~~~~~~~~~~~~~~~~~~~~~~~~~~~~~~~~~~~~~~~~~~~~~~`


Types of Membership

Catholic men 18 years of age or older who join the Knights belong to a council, or local unit. Many 18 to 22 year olds first join the Knights of Columbus in a college council. Membership in the Knights of Columbus is open to men 18 years of age or older who are practical (that is, practicing) Catholics in union with the Holy See. This means that an applicant or member accepts the teaching authority of the Catholic Church on matters of faith and morals, aspires to live in accord with the precepts of the Catholic Church, and is in good standing in the Catholic Church.

Members who have been in the Knights for six months and have attained Third Degree membership are eligible to join the Fourth Degree Knights.

The Knights of Columbus also sponsors the Columbian Squires, a service and leadership training organization for Catholic young men ages 10 to 18 years old.

Prospective Member Q & A

On this page:

---

1. I don't have time to join another organization; why should I join the Knights of Columbus?
As a Knight you can choose the projects with which you wish to be involved in within your own community. What is more, the Order is dedicated to family life and the many benefits it offers. From insurance to scholarships to service and social activities and programs, all are open to the whole family.

Come see just what we are all about and take the first steps to enhance your personal life by viewing the segment, "Why Join?"

2. What are the requirements?
Membership in the Knights of Columbus is open to men 18 years of age or older who are practical (that is, practicing) Catholics in union with the Holy See.

3. What is a practical Catholic?
A practical Catholic accepts the teaching authority of the Catholic Church on matters of faith and morals, aspires to live in accord with the precepts of the Catholic Church, and is in good standing in the Catholic Church.

4. Explain what Degrees are.
There are four degrees within the Knights of Columbus. Each degree ceremony imparts a lesson on the Order's core virtues of Charity, Unity, Fraternity and Patriotism.

5. Do I have to purchase Insurance to become a member?
No; unlike many fraternal organizations one does not become a member by purchasing insurance. In the Knights of Columbus a man has to be a member before he may avail himself of the insurance benefit. Purchasing insurance is optional, however; the life insurance and long-term care insurance products offered by the Order are not only competitively priced, they are among the most solid and highly rated products available anywhere. Standard & Poor's and A.M. Best, the leading independent agencies that rate insurance companies, give K of C insurance their highest ratings.

Arizona was selected as an on-line KofC.org/JoinUs trial state, any Catholic man 18 years old or older that conforms with our Holy See may join the K of C on-line.

He just needs to visit

KofC.org/JoinUs

and follow the on-screen directions. Once a member he:

– Has a subscription to Columbia magazine.

– Has online resources to guide him in the practice of prayer, devotions, and spiritual formation.

– Has available a trained and dedicated brother Knight Field Agent assigned to his family.
– Has available K of C insurance and retirement products.

– Has access to select K of C events and programs in Arizona.

– Essentially, he can do anything a 1st Degree Knight can do, except vote. He can not vote until he's made his 1st/Admission Degree.

So, if an individual/candidate wishes to begin attending meetings and events or desires K of C insurance or retirement products immediately, recommend he go to

KofC.org/JoinUs

and

JOIN

. Then, he can attend our next available 1st Degree Exemplification–which are the second Thursday of March, June, September, and December.

In Arizona, no Catholic gentleman need wait to join the K of C. Go on-line. Join us.

Earl V Boggler, FS

~~~~~~~~~~~~~~~~~~~~~~~~~~~~~~~~~~~~~~~~~~~~~~~~~~~~~~
For more information and/ or to JOIN us: Contact
Don Rowley, 928-499-1043, rowleyDonald@gmail.com
Tom Warner ,GK, 928)227-1282, tdwarner@hotmail.com